Paint in the comfort of your own home!
Looking for a fun, creative activity to enjoy at home? Look no further, we've got you covered! Our paint at home offer is the ideal way to spend quality time with your family or to have a social (virtual) creative catch up with friends.
You can create your baby and child print memories, unique hand-painted gifts, keeping the kids entertained or just unwind and relax with some mindfulness time in the comfort of your own home. It's simple and straight-forward to order your paint at home pottery from our online shop. We'll provide the brushes and paint. All the paint is washable so you don't even have to worry about the mess. We really have thought of everything!
1. Choose your pottery


From tiles to toast racks, we have loads of pots to choose from, all listed on our online shop. Simply add what you want to paint to your cart.


2. Select your paints


You can choose from one of three colour paint palettes during the checkout process so you've got just the right colours for your creation. Your choices are a rainbow selection, pink/purples, blue/greens or a bespoke selection of your own choosing. Then just proceed to payment.
3. Collect or receive your order
You can choose whether you want to do free 'click and collect' from the Studio in Haywards Heath or have it posted. Delivery charges may apply, please see below for details and costs. (Pssst...free postage and no firing fee for pottery orders over £100!)
4. Time to paint


Now you've collected or received your pottery in the post, it's time to get creative! Your package will include pottery pieces, brushes, sponges and paints. Everything you need to enjoy a fun and relaxing paint at home.

5. Return to us for glazing& firing


When you've finished painting, drop your pottery into the Studio or post it back to us. We will glaze and fire it ready for collection or postal delivery. I n about a week's time, you'll get a text and email saying you can come and collect your masterpiece.
6. Enjoy!


Whether it's putting your new ornament on the mantelpiece, hanging your baby footprint clock on the wall or simply having a sip from your very own hand-painted mug it's time to sit back and enjoy your creation!
Frequently Asked Questions


What does the kit include?
Your kit will include your chosen pottery, the selected paint colour palette and brushes. If you are doing hand or footprints please let us know and we'll include a sponge for you too. Should you need any particular tools just let us know.

How much does the pottery cost?
All of our pottery is individually priced, with prices starting from £4, but our most popular items are within the £10 - £20 range.

Is there a firing fee?
There is a £6 firing fee on all pottery orders under £70. But no firing fee for orders of pottery over £70 or if you are a member.

Can you post the pottery to me to paint and again once it's fired?
Yes we can! Just select this option during the checkout. Our delivery charges cover both postage to your home for painting, and the returning of your fired pottery once it is out of the kiln. The charges are:
Orders less than £50: £6.99
Orders between £50 - £100: £8.99
Orders over £100: Free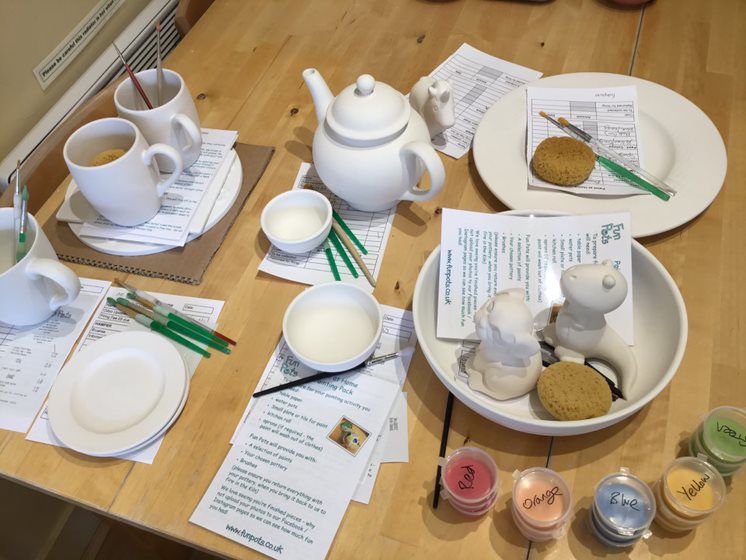 What do I need to be able to paint at home?
Not very much to be honest! Besides the kit, you will need a bowl of water and a plate to put the paint onto. You may want some paper underneath you and some kitchen towel at the ready.

What about the mess in my house?
All of the paints are water-based so it all washes out or wipes away very easily.
What if I make a mistake?
Because the paint is water-based, you can literally wipe the paint away if you make a mistake. The best thing to use is either a wet, clean brush for small mistakes or a clean, damp washing up sponge. If you make a mistake with the darker colours, it is harder to wipe away completely and some of the paint be absorbed, just to warn you. So sticking with lighter colours is often better especially for baby prints.
What if I need some help?
We are still here for you! Give us a call to talk it through, drop us an email and there some videos on YouTube too with hints and tips.
Ready to start painting?
Choose your pottery here
Needing some inspiration?
This is just a small sample of some of the paint of home pieces our lovely customers have created.