Home pottery painting kits for kids
Entertainment and mindfulness for children at home
It doesn't matter what age your kids are, they will all gain valuable skills from painting pottery at home. An opportunity for some quality time together, good for their wellbeing or just a chance to keep the kids occupied. And the reason why it's such a good learning opportunity for all? It's fun to do!
We've created a number of packages to make it even easier. You can tick that one off the list. Phew.
Happy Home Potting!
Our bestselling children's paint at home ornament kits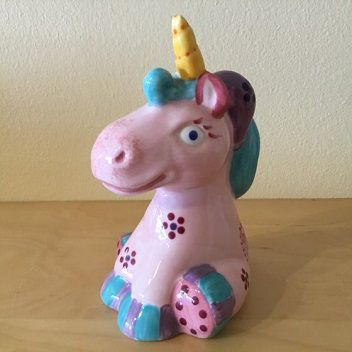 Unicorn
Who doesn't need a unicorn sitting pride of place in their room? Lots of opportunity for exploring colour with the mane and tail, or keeping it simple wth a single colour and patterns over the top instead.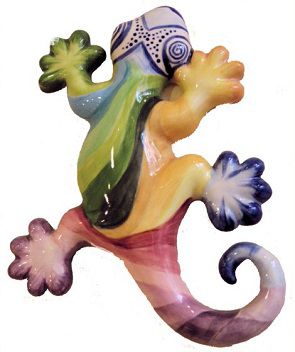 Gecko
It might look like a simpler piece of pottery but don't be fooled. Our gecko has been painted and decorated in so many ways - there is a reason why it's our bestselling group item.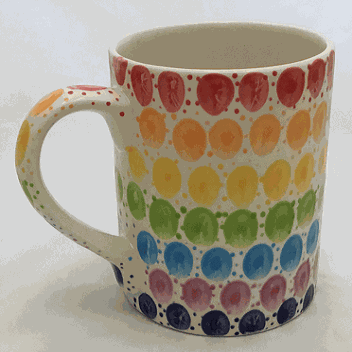 Mug
The mug is great for older children, or if you want to sit down and paint the same thing as the children. Opportunity to personalise, write names, do hand prints, finger prints or paint a picture of something, and at the end you have your own unique mug to use.
What's included in the kit?
Rainbow paint pallete
A sponge
Brush per painter
Your chosen pottery
You will need to provide a bowl of water, a plate to put the paint on and some kitchen towel. Then you are good to go!
How much does the kit cost?
Each kit is £14.50 per painter

There is an additional £10 firing fee for each kit ordered. For example, if you order 2 pieces of pottery, there is just a single £6 firing fee.
Buy my children's pottery kit here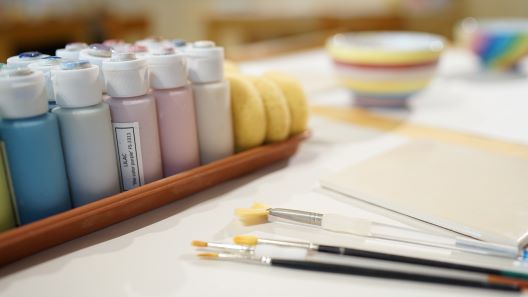 Learning Benefits of Pottery Painting
Younger Children
Painting improves hand-eye coordination and fine motor skills. They develop an understanding of the feel and way in which to handle paints as well as a chance to explore colour. It starts them on a journey of creativity - planning and designing their pottery independently.
Older Children
Provides a creative outlet for self-expression and exploration. A chance to develop new skills as they learn and practice ever more complex painting techniques. They plan and design before starting to create their vision on pottery. It can also help with developing greater self-confidence in their own abilities and development, as well as improve concentration.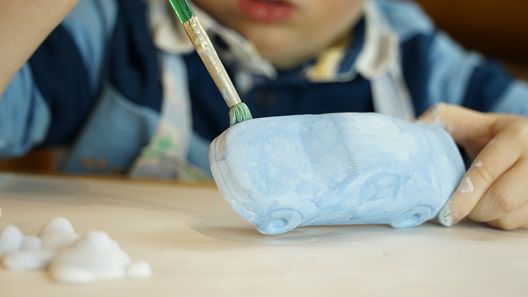 Fun Pots School and Educational Projects
Over the years we have been fortunate enough to have worked with lots of local schools and education groups. Helping children of all ages and abilities to develop new skills, and most importantly have fun. To see the pride in their faces when the pottery is unwrapped is amazing! Here are just some of the institutions we have undertaken projects with:
Ardingly College
Hassocks Infants School
Guides and Beavers
Kangaroos: Fun Disability Clubs
Harlands School
Chailey Heritage
Sheddingdean Primary School
Burgess Hill School for Girls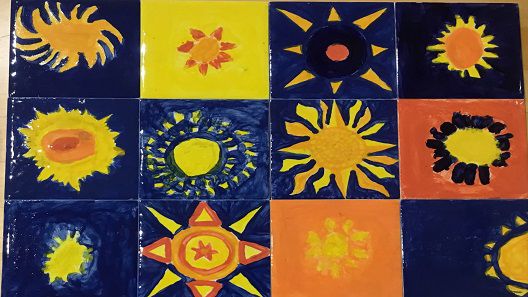 Guide by Age
Younger Children
Start with lighter colours and focus on one part of the pottery e.g. the head
Make sure to mix in a good amount of water with the paint, only a small amount of paint is needed
Paint two coats of paint, it dries very quickly!
Use darker colours for details and patterns e.g. fingerprints, dots with the end of a brush, stripes or sponging.
Older Children
Try planning the design out first on a piece of paper
Perhaps use different colours for different parts of the pottery e.g. one colour for the head, another for the body and tail
There are other techniques they can use such as dot hearts or painting a specific picture.