Paint in the comfort of your own home!
Discover the fun of painting your own pottery at home! Enjoy painting your own pottery for treasured keepsakes, gifts, entertaining the kids or just for some much needed creative 'me' time. Pottery painting can even support with home schooling when it comes to the expressive arts, a win-win!
Our full pottery range is available to paint at home and we'll still be here, virtually, for advice and support if you need it. Visit our online shop to buy your paint at pottery.
We don't yet have a date for when the Studio can reopen, but we'll keep you posted.
Say hello to our new childrens' entertainment kits
Coming to your aid in keeping children happy, entertained and giving them some much-needed mindfulness time!
We've ready-made kits for you to choose from, each coming with a selection of paints, brush and sponge. Develop their creativity, support their growing self-expression and self-confidence, fine motor skill development, and much more. Perfect for all ages and you can even join in to if you like.
Find out more about childrens' kits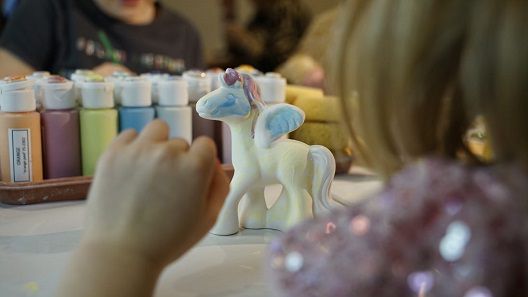 Our services
Whether you're looking for a fun family activity, for help to capture your baby's hand or footprints or to book a stress free children's birthday party look no further. Pottery painting is not just for little ones, its brilliant for adults too. Whether you're looking for a rainy day activity or a creative day out we've got you covered!